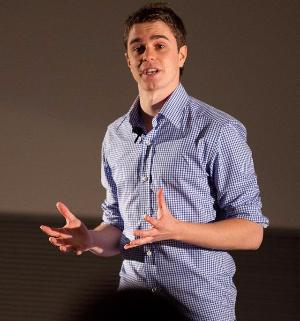 Matthew Thomson, 2011 3MT winner
The University of Queensland's PhD candidate, Matthew Thomson knows better than most the significance of fingertips when it comes to setting a man free.
Mr Thomson competed with over 40 students and won the Australian and New Zealand final of the Three Minute Thesis (3MT™) competition, by presenting his research on how improving fingerprint analysis could help to prevent wrongful convictions.
In Mr Thompson's 3MT presentation, he spoke of his research on the benefit of expertise when examining fingerprints, and outlined how his research might improve current practice and better understand the factors that influence performance.
 "Contrary to popular belief and TV shows like CSI, computers are not relied upon to match crime-scene fingerprints. Instead, human fingerprint experts decide whether a print belongs to a suspect or not," Mr Thompson said. 
"Participating in the 3MT competition has been an incredibly valuable experience, one that has changed the way that I think about my PhD. I was forced to consider the social and economic impacts of my research, and how our lives might be improved as a result.
"Seeing the bigger picture gave me new purpose and motivation for all those late nights in the lab," Mr Thomson said.