Individual Development Plan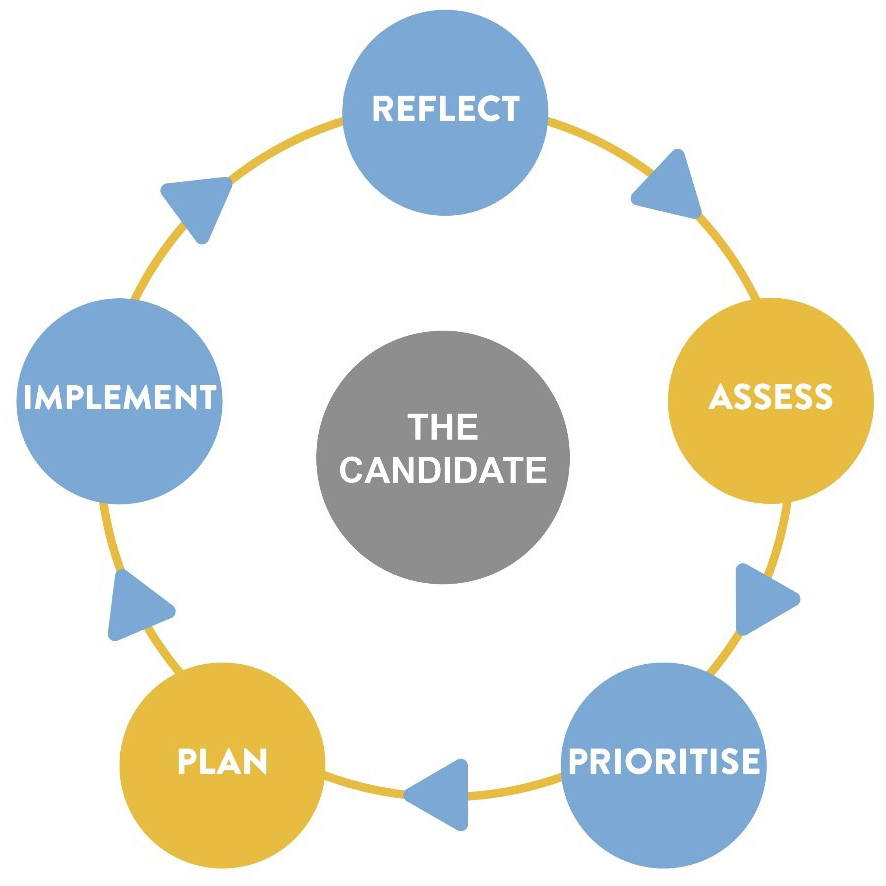 An individual development plan (IDP) provides you with a structured process to plan for a successful HDR experience and attainment of the attributes to be possessed by all University of Queensland Higher Degree by Research candidates on graduation. This process provides an opportunity for you to graduate as a well-rounded and capable researcher who can make a significant impact through a successful career by regularly:
reflecting on and assessing the skills you already possess;
considering your career aspirations;
identifying areas where you could benefit from gaining further experience;
formulating a personalised development plan; and
engaging in development opportunities in a purposeful way during the course of your candidature
Your development plan comprises two elements:
Development Needs Analysis:  completed by you prior to a meeting with your principal advisor.
Individual Development Plan:  created by you in consultation with your principal advisor.
The Development Needs Analysis and creation of an Individual Development Plan should be undertaken annually, and we recommend starting the process six months prior to each of your progress reviews. As part of the process you should reflect on your previous year's plan and make adjustments as your needs change.   This iterative process provides a recurring cycle of engagement with your professional development as shown in the diagram above.
Development Needs Analysis (DOCX, 52.5 KB)  Individual Development Plan (DOCX, 124.2 KB)
While excellence in research activity and outputs continues to be a core element of the HDR, contemporary expectations emphasise the qualities of the graduate. The University of Queensland's HDR Graduate Attributes reflect the changing expectations of the HDR. These attributes can be acquired while performing discipline-specific research and via specific development activities. Through the development of these attributes, the University aims to produce graduate researchers who are innovative knowledge leaders able to contribute significantly to their discipline and chosen profession.
To facilitate development of the Graduate Attributes throughout a HDR program, you should work with your HDR candidates to create an Individual Development Plan (IDP).  Through this process your HDR candidates have an opportunity to regularly examine their skills, formulate a personalised action plan, and engage in development opportunities in a purposeful way during the course of their candidature.
The IDP is ideally completed and reviewed at each progress review. The creation of an IDP begins with a development needs analysis.  This recognises candidates' prior learning and experience, and is designed to identify gaps that need to be addressed during candidature.  
Anticipated Outcomes and Benefits
| For Advisory Teams | For the HDR Candidate | For the Institution |
| --- | --- | --- |
| Enhanced quality of candidate outputs | Guidance on potential development needs | Supports achievement of AQF Level 10 criteria |
| Improved progress through candidature to completion | Improved confidence in, and ability to communicate their range of skills | Contributes to development of our HDR Graduate Attributes |
| Improved efficiencies in identifying candidate development needs | Enhanced quality of outputs | Evidence-based approach to researcher development |
| Candidates' capacity for collaboration within and across disciplines is improved | Improved perception of institutional/advisory support leading to improved candidate experience | Strengthens alignment with UQ's Strategic Plan |
| Improved opportunities for discussions with candidates including providing a starting point for difficult but necessary discussions | A flexible and non-prescriptive approach to development which accounts for the individual's prior experience and learning | Aligns with good practice principles and recommendations outlined by Australian Council of Graduate Research (2016) and ACOLA Review of Australia's Research Training System (2016) |
| Promotion of increased independence of HDR candidates | Improved employment prospects – particularly in identifying professional and transferrable skills to meet key selection criteria |   |
|   | Supported development of reflective, pro-active and self-directed learning |   |
|   | Assisted with identification of, and access to experts, in a range of development areas |   |